Last year may have put an unexpected pause on our lives but that did not deter the artists from making more music, and good music, as is reflected in our list of Top 20 Albums of 2020 and 50 most Noteworthy Songs of 2020 (both available as part of the second issue of our magazine only). Now that things have opened up and most artists have hit the studio to begin working on pending material, here is a list of releases we are most excited about in 2021.
Lifafa – Superpower 2020
So far offered up with two songs – the hypnotic, unsettling yet seemingly breezy 'Laash' and then a 13-minute trip into the void of experimental electronic music with 'Mandir' – New Delhi/Goa/elsewhere producer and singer Lifafa heaps on the irony with his website that teases the follow up to 2019's Jaago. The surreal sonic bubble we're expecting has been teased in prior performances, including the digital edition of Bacardi NH7 Weekender and it's only a matter of time before the full record is released.
Roy x Dub Sharma – Herock Project
Releasing three tracks and a music video till now, New Delhi hip-hop artist Roy aka Sumit Roy teams up with ace producer Dub Sharma (the mind behind hit tracks on Bollywood film Gully Boy) for firebrand, socially conscious tunes on his debut album Herock. Songs like 'Paisa Fake' tackle demonetization, while 'Baari Hamaari' was anthem-like in its intent. 'Chowkidaar' played up Roy's sarcastic intent as well but took a bite out of the government's suppression of activists and students in a roving video directed by Kolkata filmmaker Q. Expect at least a couple of more tracks and more pointed critiques of India in 2021.
Ditty with Faraway Friends – Rain Is Coming
A new artist collective comprising Goa-based singer-songwriter Ditty, Austria-based drummer-producer David Raddish and Germany-based rapper/vocalist Keno assembled in Vienna in January last year, creating Faraway Friends. The debut single 'Jal Saheli' was a particularly potent mix and the full album Rain Is Coming releases on World Water Day, on March 22. Ditty said in an interview with Ahmedabad Mirror, "It's a whole trip. We are telling a big story with many characters — from activists to women revolting against patriarchy to even us. It's almost like a book and each song is a chapter."
When Chai Met Toast – When We Feel Young
Releasing in a piecemeal fashion so far in 2020 with songs like the electro-pop turn 'Maybe I Can Fly', an Ankur Tewari-aided gentle tune ('Kahaani') and lilting, familiar melodies on 'Ocean Tide'. The title track, supplied with a heartwarming animated music video, mesmerised and opened up to the arena-rock possibilities for the Kerala band, so it remains to be seen what the rest of the album brings forward in terms of sonic diversity.
Dot. – TBA
After a big breakout with her lo-fi, enchanting piano-vocal combo heard on songs like 'Everybody Dances to Techno', 'Asymmetrical' and 'Wes Anderson', Aditi Dot. spent a while performing a handful of shows in India but then there was a pause from social media through most of 2020. We know she recorded for a soundtrack, but her debut full-length album is slated for release this year. Expect Dot.'s first record that's written and performed with a full band in the room.
The Local Train – TBA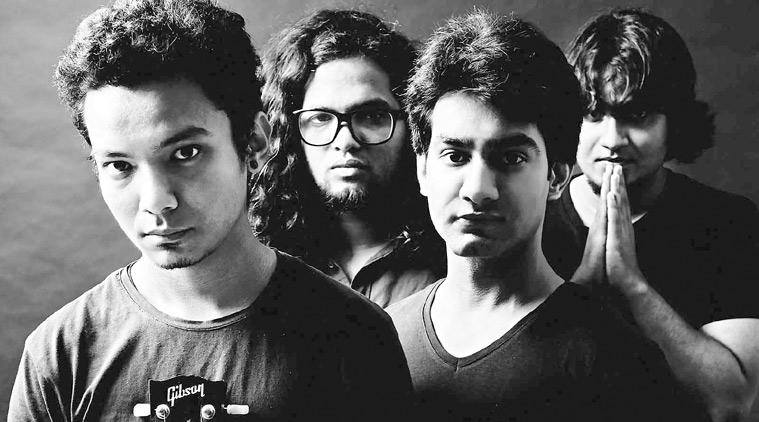 The pandemic stalled most plans for the New Delhi rock band to head into the studio and follow up their sublime 2018 record Vaaqif. But Raman Negi, Paras Thakur, Sahil Sarin and Ramit Mehra resumed jamming after a long break sometime late last year and that means work on their third album is likely underway. While they're currently celebrating the anniversary of Vaaqif's release, a new collection of songs might be out in 2021.
Godless – TBA
Amongst the most unsparing heavy bands in India right now, Hyderabad/Bangalore death-thrash band Godless are working on a full-length for this year and recently even had a craft beer to their name. That beer is christened Doppelbock, but the album title is yet to be announced. What we do know is that there's also a change in personnel, with drummer Aniketh Yadav and guitarist Ravi Nidamarthy stepping out of the band due to their professional commitments. While Yadav will be the drummer on the upcoming debut album, Godless has so far enlisted New Delhi drummer Vishesh Singh (Fragarak, Bloodywood, High Frequency) and soldiered on with existing guitarist Moiz Mustafa for two live shows this month.
Dirge – TBA
Slow and low as it goes, Mumbai doom/sludge band Dirge are prepping for a successor to the ancient history-meets-mythology themed 2018 album Ah Puch. Recorded in different portions throughout 2020 owing to the pandemic, the band has so far dropped updates about recording at Thane's Blue Cassette Studio with producer Apurv Agrawal, except for drums which were recorded at Bangalore's Stained Class Productions early last year. This will also mark the band's first record with synth artist and producer Abhi Meer.
The F16s – TBA
Chennai indie reps The F16s played a double-bill to break the pandemic-enforced gig drought in Mumbai last month, teasing new material that they've been chipping away at for the better part of 2020 and prior. Although vocalist-guitarist Joshua Fernandez (JBabe), producer-keyboardist Harshan Radhakrishnan (Henny, Killpop) have other projects, focus on The F16s' follow up to WKND FRNDS has been impressed through most of last year in different parts of the country.
Prabh Deep – TBA
Like most artists part of the Azadi Records stable, Prabh Deep never has his hand in just one pie and his mind on one release. Balancing several projects in different stages of completion, the Punjabi firebrand artist has been turning away from hip-hop into more soulful songwriting, as heard on 2019's KING EP. But he also punches hard when he wants to, like on the lead single 'Chitta' that released last year. There's a project that draws from the 1984 Anti-Sikh riots, another project that is sonically more fluid and plenty more in between. If you've seen Prabh messing around with synths and bumping next-level artists like Flying Lotus, you know just how extraordinary his next drop is going to be.
Mali – Caution To the Wind
Prepped for release in February, Chennai-bred pop singer-songwriter Mali recently announced her new album Caution to the Wind will release in February. So far, what we've heard from it are three formidable singles in the form of 'Age Of Limbo', 'Mundane' and 'Absolute'. Comprising eight tracks in all, the album is likely to be a showcase of an ever-changing pop artist.
Sutej Singh – TBA
The Solan, Himachal Pradesh-based guitarist and composer gave us a regal prog album in the form of The Emerging in 2018 and he's currently writing his next album, which will most likely be independently released. The guitarist tells us he's also looking out for possibly crowdfunding the record with an online campaign.
Anand Bhaskar Collective – Ufaq EP
Although they've released one single so far in 2020, in the form of 'Main Hoon Zameen', an emphatic track which saluted social activists and grassroots changemakers, Mumbai's Anand Bhaskar Collective are starting the new year with more. There's a new single coming up that's produced by the band's longtime associate and violinist Ajay Jayanthi, so colour us hyped for a mellifluous new turn from the alt-rock/fusion from ABC.
Easy Wanderlings – TBA
With members moving to Chennai and Pune owing to the pandemic, alternative group Easy Wanderlings is now prepping to release a new EP that will follow the two-track 2019 EP My Place To You. Founder and songwriter Sanyanth Naroth tells us that the upcoming record will be released track by track starting April. There are five tracks in all, with one expected each month to capture as much momentum as possible.